I love lasagna. Unfortunately, traditional lasagna isn't necessarily the most health conscious of entrees. The good news is, with a few modifications, it can be. This recipe is tasty and calorie conscious. If you are looking for a good swap for pasta, zucchini is a great one! Not only is zucchini lower in calories than pasta, it is also a natural source of vitamin C, Potassium, fiber and several other beneficial nutrients.  Out with the old, in with the new. Enjoy!
Zucchini Lasagna, This recipe is from: Skinnytaste.com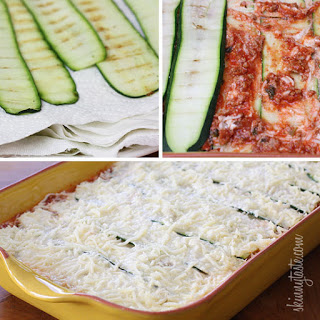 Makes 8 servings
Ingredients
1 lb 93% lean beef
3 cloves garlic
½ onion
1 tsp olive oil
28 oz can crushed tomatoes
2 Tbsp chopped fresh basil
3 medium zucchini, sliced 1/8" thick
15 oz part-skim ricotta
16 oz part-skim mozzarella cheese, shredded
¼ cup Pamesan cheese, shredded
1 Large egg
Salt and pepper
Instructions
In a medium saucepan, brown meat. When cooked, drain in colander to remove any fat. Add olive oil to the pan and sauté garlic and onions about 2 minutes. Return the meat to the pan; add tomatoes, basil, salt and pepper to taste. Simmer on low for at least 30-40 minutes, covered. Do not add extra water, the sauce should be thick.
Meanwhile, slice zucchini into 1/8" thick slices, lightly add salt and set aside for 10 minutes. Zucchini has a lot of water when cooked, salting it takes out a lot of moisture. After 10 minutes, blot excess moisture with a paper towel.
Preheat oven to 375°.
On a gas grill or grill pan, grill zucchini on each side, until cooked, about 1-2 minutes per side. Place on paper towels to soak any excess moisture.
In a medium bowl, mix ricotta cheese, parmesan cheese and egg. Stir well.
In a 9×12 casserole dish, spread some sauce on the bottom and layer then layer zucchini to cover. Then place some of the ricotta cheese mixture, then top with the mozzarella and cover with foil.
Bake 45 minutes covered at 375°, then uncovered 15 minutes. Let stand about 5-10 minutes before serving.
Food Facts
Calories 275, Fat 14g, Carbohydrates 11g, Protein 26g