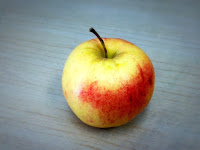 With Thanksgiving around the corner, many of us would like to avoid the "infamous" holiday weight gain. Regardless of how many pounds we may pick up during the holiday season, one of the most challenging aspects is losing them come January. Wouldn't it be nice to skip the weight gain pattern and maintain or lose weight between Thanksgiving and New Year's?
This effort starts with Thanksgiving.  With knowledge of caloric content in typical Thanksgiving foods, we can make more informed decisions about when to splurge, when to conserve and how to offset the extra calories with physical activity. My advice, if there is an item or 2 you don't absolutely love, skip it! However, if you just cannot bring yourself to skip any items, reduce portions. The calorie savings between these options can really add up and make a difference.
Try to keep the main focus on quality time with family or friends. Enjoy food in moderation.  Include physical activity in your holiday (I like to grab a family member and go for a walk after the meal). Give thanks!
| | | |
| --- | --- | --- |
| Food item: | Calories: | Activity to burn it off (times are approximate): |
| Turkey – 6 oz | 350 | Running – 30 minutes |
| Mashed potatoes with gravy -1/2 cup | 300 | Biking – 30 minutes |
| Stuffing – 1/2 cup | 200 | Pilates – 30 minutes |
| Cranberry Sauce – 1/2 cup | 150 | Jumping rope – 15 minutes |
| Roll with butter – 1 | 200 | Dancing – 30 minutes |
| Pumpkin Pie – I slice | 300 | Walking – 1 hour |
| Totals: | 1500 | 3.25 hours |